All information gathered from our dealings with fabrication orders are used strictly for our reference and would not be passed on to any third party.
In the case where passing information is necessary to facilitate sub-contracting jobs to relevant party, we will inform our customer of such action.
We agrees to protect user information with all possible ways, within the law of China. This include non-disclosure of customer information in regardless of request from any party at all unless such information is required to aid in criminal investigation.
We agrees to not sell, rent or in anyway disclose customer information for our benefits in any kind. We understand the importance of such action and consequences towards privacy of user.
Panelizing & Merging Policy
For prototype Service, we accepted and welcome customer to do Multiple-designs panelization on panel but there will have extra charge for this.
Each additional designs have extra USD 20.00 per 2 layer designs and extra USD 50.00 per 4 layer designs. 2 layer setup has a maximum limit of 4 designs on panel, 4 layer setup has a maximum limit of 2 designs on panel, 6 layer and more than 6 layer setup do not accept Multiple-designs on panel.
All engineering data and customer's information passed on to us would be treated as confidential information and would protected as such.
We agrees to within all its capability to protect all engineering data submitted to us and to not disclose these data under any circumstances.
All PCB made and sold are not returnable for a refund.
We accept request for remake/rework or replace for PCB which is not built according to the given CAD or CAM files、Jobs with high level of fabrication defect、Quantity received is not the quantity promised、Quality issues.
We DO NOT compensate for the cost of components and working hours.
Please refer to
FAQ
page , after sales section for more details.
Manufacturing Lead time Policy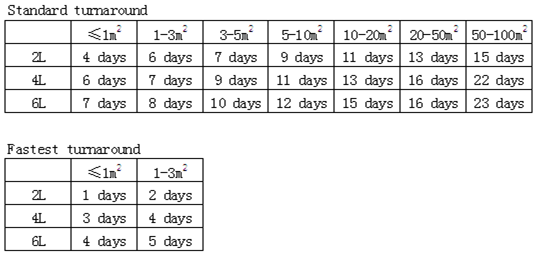 Daily cut-off time is 11:00 chinese time. If payment is after this time, the job will be considered next day's order.

Fast turnaround might costs extra charge to customer.


Orders accepted during holidays and weekend will be processed the next working day. EQ(Engineer Query) might gets job delay.